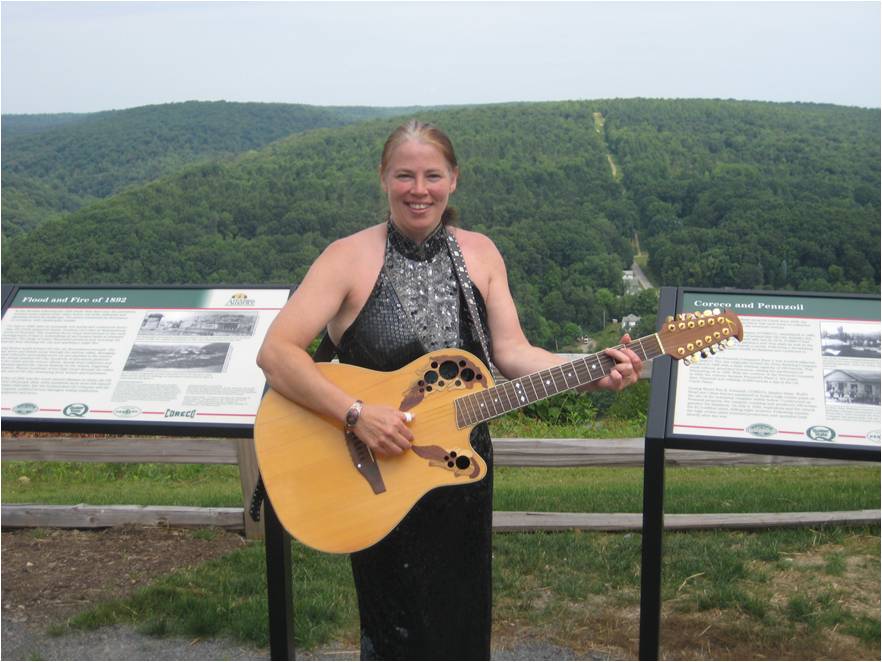 Sunny James - biography
Sunny James is a country recording artist & motivational youth speaker
born and raised in Oil City.
She now lives in Seneca with her husband Dale and son Sonny.
Sunny James
is known as the little country gal from Oil City, Pennsylvania
known for her signature song & music video Hills of Pennsylvania
She has recorded 4 cds & 2 music videos of her songs.
She has opened for the Confederate Rail Road and
played on stages such as the Jamboree In the Hills -
Tootsies & Legends in Nashville Tennessee,
Sunny has performed on television and radio stations
as well as at schools, fairs and festivals through out the tri-state area.
Sunny James is her stage name her real name is Beth Schmader
Sunny is a nick name given to her by her husband Dale because
she was always happy and smiling and James is from her father
the late James A. Tarleton who taught her to play the
guitar at the age of 8. "That way each time I perform I keep them both
close to my heart."
"My mother and step father Mary & Thomas Strawbridge are my
biggest fans and have always been great support and inspiration
for my music and have always inspired me to follow my dreams"
cds & videos can be purchased @
www.sunyjames.com
or the Transit Building in Oil City
for more info on Sunny James go to
www.sunnyjames.com
contact (814) 676-8954
email Sunny James